Congratulations to Lambs Conduit Street on winning 'The Great Street Award' in The Urbanism Awards 2014. 
Accepting the award on behalf of Camden Council, our own ward councilor, gorgeous Sue Vincent, beamed with pride.  The other finalists in this category were North Street, Bristol and Park Lane / Poynton High Street, Poynton, Cheshire.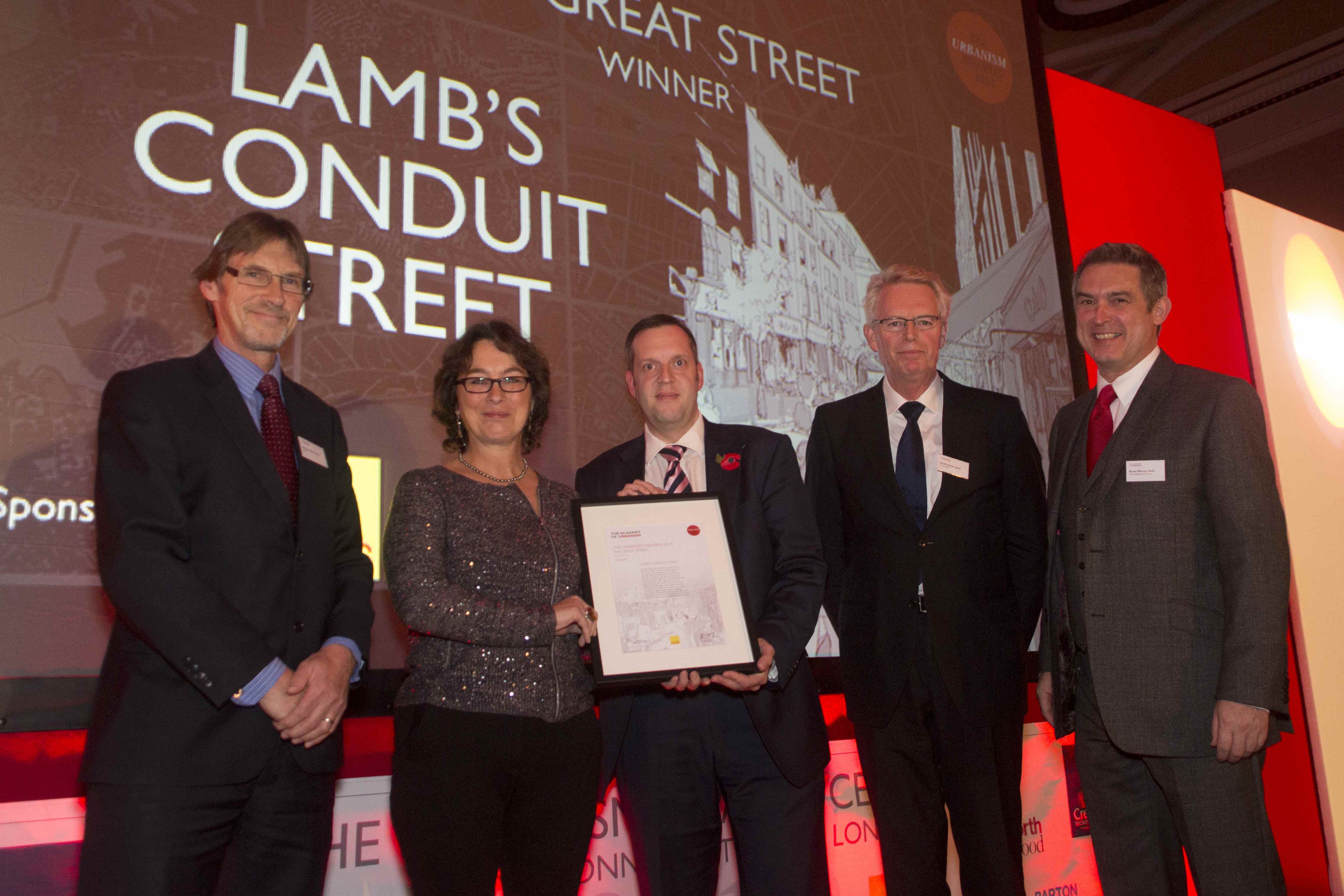 L-R: Richard Shaw, Savills; Cllr Sue Vincent; Andrew Glover, Partner at Farebrother; Geoff Haslam, Lead Assessor; Kevin Murray, Chairman of The Academy of Urbanism.
The award itself is a framed poem by The Academy of Urbanism's Poet in Residence, Ian McMillan:
LAMB'S CONDUIT STREET
 A world in miniature; a universe in a grain of sand.
You can look from one end and see the other end.
You couldn't call it majestic. It isn't very grand
And yet I think it's monumental. A nuanced blend
Of shops and popups and café's you can pop in,
Slip out of carrying coffee that makes everything clear
And somehow this street quietens the city's din
And concentrates the careworn mind to the sheer
Pleasure of simply walking down a welcoming street
That asks you to pause, take your time, have a look
And follow a different, independent, subtle beat.
Buy a shirt. Buy a croissant. Meet your mate. Buy a book.
I went there with my son and he turned to me and said
'This is the perfect street. I'll always live here in my head.'
The Awards recognise the best, most enduring or most improved urban environments. Votes came from the Academy's 500 members, who decide on a number of social, economic and environmental factors, including good governance and vitality.
The results have demonstrated that successful places involve a good network of committed partners and a long term vision that looks beyond political time-frames.
Kevin Murray, Chairman of The Academy of Urbanism, said: "With these awards we are celebrating inspirational and heroic stories of places that are saved, turned around, rediscovered and rejuvenated. Great places don't just happen, they are planned, shaped and supported by human endeavour."

The Academy of Urbanism is a self-funded, politically independent organisation made up of over 500 leaders, thinkers and practitioners involved in the social, cultural, economic, political and physical development of our villages, towns and cities. It was formed in 2006 to recognise, learn from, and promote excellence in placemaking. The Academy works pro-actively with places to nurture and help them become more resilient.
Photo: copyright Paul Brocklehurst