Honey & Co., the Middle Eastern restaurant from husband and wife chef duo Sarit Packer and Itamar Srulovich, has opened at 54 Lamb's Conduit Street on the corner of Rugby Street.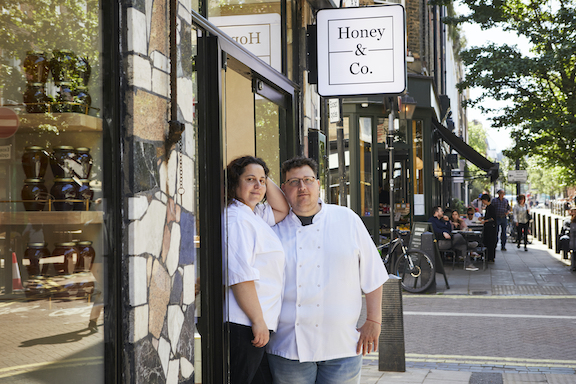 Srulovich explains: "We knew as soon as we saw the site on Lamb's Conduit Street that it was the one for us, and we rarely agree on things. The space on the corner is perfect, and the neighbourhood is so warm and friendly."
The new restaurant draws on the experience of dining at the original Honey & Co. in Warren Street. They've created a space with a intimate, warm and inviting feeling. Interiors in earth tones with natural wood finishings are in keeping with the restaurant's Middle Eastern inspired menus, whilst patterned Moroccan tiling references the original tiles at the Warren Street restaurant.
Breakfast offers freshly baked pastries such as an almond and orange blossom 'Bloomsbury bun' and ashura cereal served with yogurt and house jams. Dinner starts with a seasonal mezze selection sharing, including Yemeni-style falafel, halloumopitta, and creamy hummus, followed by mains including aubergine shawarma and crispy lamb ribs. For dessert, there's Sarit's famous honey & feta cheesecake on kadaif pastry.
"This restaurant feels like the perfect continuation of everything we built on Warren Street. The same welcoming feel, the same delicious, generous Middle Eastern food that people have always come to us for. Now, we can just do all of that from a bigger kitchen, in a bigger space, for more people," says Packer.
Honey & Co. joins a formidable line-up of long-standing food hotspots on Lamb's Conduit Street, with neighbours including La Fromagerie, Noble Rot and the legendary Ciao Bella, as well as independent retailers such as Grenson, Folk and The People's Supermarket.
Opening Hours:
Tuesday-Saturday: 9am-10.30pm
Sunday & Monday: Closed

Online Bookings: https://honeyandco.co.uk/places/honey-co/
Bookings Email: bookings@honeyandco.co.uk
Contact Number: 0207 388 6175