UPDATE: 1 Feb 2013
LCC used their petition to keep the pressure on, and now the number of councils committing to this potentially life-saving training has risen to 13.

These boroughs are Bexley, Camden, City, Greenwich, Hackney, Hammersmith & Fulham, Hounslow, Islington, Lambeth, Newham, Southwark, Waltham Forest and Westminster.

And thanks to LCC's lobbying, Transport for London now also insists all its contractors give their lorry drivers cyclist-awareness training.
---------------------------------------------------------------------
Only two councils in London have committed to using the safest lorries and best-trained drivers, even though half of cyclist deaths in the capital involve lorries.

Click here to see Camden council's rating on LCC's map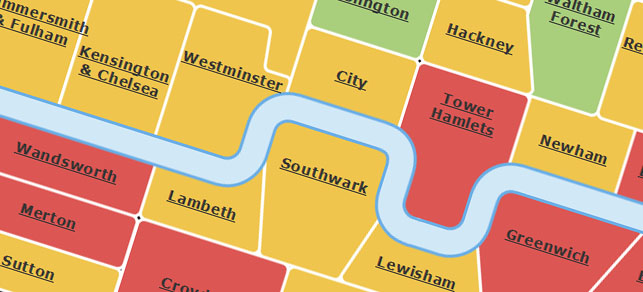 The Safer Lorries, Safer Cycling Campaign

>Lorries are involved in half the cyclist fatalities in Greater London, even though lorries make up only a small fraction of motor traffic.
>Lorries are also involved in many collisions that cause life-changing injuries.
>Pedestrians and motorcyclists are also extremely vulnerable to lorry danger.

LCC applaud Waltham Forest and Islington councils for committing to the Safer Lorries pledge, and hope your pressure can persuade many more councils to take our pledge too.

LCC chief executive Ashok Sinha said, "Our councils have a duty to only use the safest lorries and best-trained drivers.

"The inaction of the 10 worst councils stands in sharp contrast to the great work on lorry safety being done by the best councils and other major lorry transport users such as Transport for London."

LCC has been in contact with all 33 councils in recent months, lobbying them to raise their standards of lorry safety.

2000 LCC supporters have already used LCC's online letter-writing tool to write to their council leader calling on them to take our Safer Lorries pledge.

200 supporters have shared the letter-writing campaign with friends or on social media
Yet despite this, 10 London boroughs are putting cyclist lives at risk daily by using inadequately equipped lorries and under-trained drivers.

Another 20 councils, despite taking some steps towards improving lorry safety, have failed to match the standards demanded by LCC's Safer Lorries pledge.
 
For more information and to take part, click here to go to LCC's website