Have you seen the workmen?  Do you remember the consultation in January?  Well... the results are in and even faster, the approval for these works has already happened.
Two new zebra crossings outside167 and 200 Gray's Inn Road, relocate two  existing crossings outside 61 and 199 Gray's Inn Road 
Raise the zebra crossings at four locations to provide step free crossing points and help reduce vehicular speeds.  
Increase the length of four bus stops, outside 92, 123-129, 246 and opposite 187-189 on Gray's Inn Road. Relocate three of the bus stops to alternative locations outside 47, 164 and opposite 187-189 on Gray's Inn Road  and a consolidation of two bus stop opposite 28 Gray's Inn Road
Implement double yellow lines with loading bans on  sections of Gray's Inn Road and at junctions to help accessibility for buses
Removal of five pay and display bays to accommodate on street secure carriageway cycle parking on Coley Street and Wren Street
Carriageway resurfacing where required between Acton Street and High Holborn on Gray's Inn Road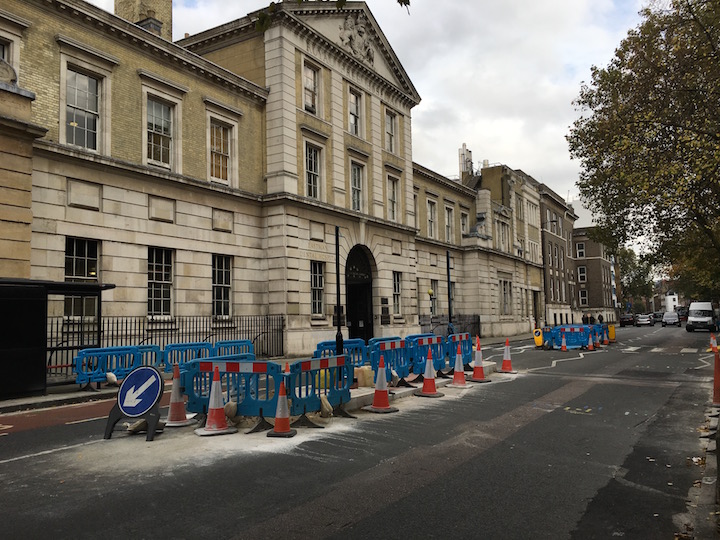 Overall, there is no reduction in resident parking or motorcycle parking bays. However, there is a reduction of 5 pay and display parking spaces.  Where loading is restricted due to the proposed double yellow lines with loading ban, sufficient lengths of single yellow line have been provided for loading purposes.
And just in case you're interested, said you didn't know, or wonder who took part in the consultation:
RESULTS OF THE PUBLIC CONSULTATION UNDERTAKEN
A total of 1,600 consultation letters were distributed to residents, businesses, local and statutory groups and Ward Members. In addition, the same consultation material was published online.  The consultation period ran from 26th November 2015 to 8th January 2016.
The table below shows the overall view on all the proposed changes from those who responded. Full details can be found in the decision report which can be accessed via https://consultations.wearecamden.org/culture-environment/pedestrian-crossing-bus-reliability-and-pavement-i-1
 

 

 

Yes

No

No Opinion

No Answers

Residents

75

43

64

47

Businesses

13

15

16

12

Local / Statutory Groups

5

1

1

0

Total

        93

59

81

61

%

  32%

  20%

27%

21%