WARNING: Stay away from Russell Square. Don't listen to music in the street. Don't wear your headphone anywhere you can be seen. Don't make phone calls or check emails unless you've found safety inside an armoured café. And, finally, don't walk on any street unless there is copious CCTV coverage. Oh, here's another 'finally'; this is a good one – if you want to be risk free, don't travel.
Our freedoms are being damaged by moped crime, or rather the inability to properly, fundamentally to fully control it. Any by this, I mean all but eliminate it.
Our ward, Holborn and Covent Garden is the 3rd worse out of all 654 London borough wards. We're only beaten by Bunhill, Islington in 1st place and our neighbouring ward Bloomsbury, Camden in 2nd. The statistics span a 5 year period. This is not a temporary crime blip.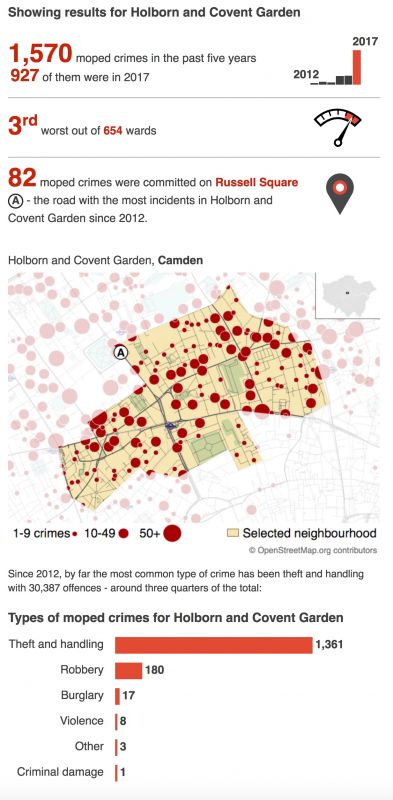 Source: BBC News website: https://www.bbc.co.uk/news/uk-44381757
Cressida Dick, the Met's commissioner, on Tuesday 5 June told the House of Commons' Home Affairs Select Committee that it would be "naive" to think cuts in police officer numbers had had no effect on crime levels. "I'm sure it has had an impact ..."
Sara Thornton, the National Police Chiefs' Council chairwoman followed up with: "There is undoubtedly a capacity issue in neighbourhood policing ... it does need some extra investment."
So there we have it. The reason the moped criminals are so flagrant and prolific is there's not enough money to fund the police to catch them. Actually, I'm sure there are other more complex reasons – the selling off of local sports facilities, cuts to council youth services, too few youth clubs; not forgetting high rewards for low risk moped-enabled snatches of phones, watches and the products of ram raiding high end watch and handbag shops.
Whilst the under-funded, and under-resourced Safer Neighbourhood Team are doing their best to chase the moped gangs, what's happening about drug dealing, aggressive begging, and don't get me started about red-light jumping cyclists! Have we really been conditioned into feeling guilty that we want it all dealt with?
Try phoning 101. What the longest you've been on hold for. HV boasts 34mins. And the police via the 999 emergency operator? 7mins before the police answered. A young vulnerable child goes missing late at night. The parents are very worried. The police say it's a low priority because they're dealing with stabbings. It's not good enough.
What can we do? HV suggests moan. Moan to any and every politician had police officer you come across. Write our our friendly and supportive MP, Keir Starmer. Moan on and on so that, eventually, our message forces the final decision-makers to do something.
However, truly, nothing significant will be done until the entire cabinet is mugged for their mobile phones by a scooter gang in Downing Street after attending a cabinet meeting about funding cuts.