UPDATE 13 November 2019
Finally, finally... it's dragged on inconclusively and scrappily for too long. Camden's Cabinet met to make the final decision about the controversial: Torrington Place/Tavistock Place Corridor - Traffic Management (SC/2019/04)
The key issues seemed to be the direction of motor traffic and the concerns about associated congestion and resulting pollution as well as increased west-bound travel times.
You can read the full report on Camden's website
http://democracy.camden.gov.uk/ieDecisionDetails.aspx?ID=2740
Here's a selective summary of the official (I hesitate to say "final") decision:
Purpose
To decide whether to retain, or reverse, the present direction of motor traffic and make possible further changes to the Torrington Place / Tavistock Place corridor, in light of the responses to the public consultation and other relevant material.
Decision
not to promote a westbound traffic order in replacement of the existing eastbound traffic order;
that various sections of footway are widened along the Corridor, although not to the full extent proposed in the public consultation;
that a mandatory cycle lane is implemented along the length of the corridor on the south side bringing it in line with the north side;
that delineation be provided between eastbound cyclists and pedestrians at Byng Place through the use of trees, cycle parking and seating;
Does this mean Camden has accepted the Inspector's recommendation or not? Really, I can't work it out.
With all the changes to traffic flow, it does make HV wonder if living here is getting a bit too much like the last two lines of 'Hotel California'.
______________________________________________
Previously....
It's still lawful to own a car, it's still lawful to use a car. Cllr Fulbrook remains us that our ward is one of the lowest car-owning wards in Camden. So what's the big problem? The closure to motor traffic of Judd Street at Euston Road, the direction of the single lane one-way motor lane in Tavistock place, and don't get me started on Guilford Street, is making it increasingly difficult to enter our area by car. It's not just residents cars, it's delivery vehicles, emergency services, taxis etc etc.
There is in HV's opinon, a lot of froth around the so-called "improvements to walking and cycling". A less generous take could be that this is an Orwellian phrase intended to disguise an anti motor vehicle initiative.
And that brings us back to Tavistock Place...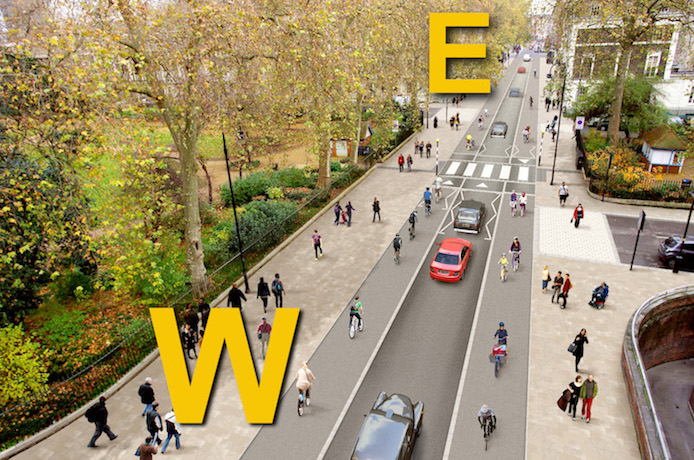 Camden are holding (yet another) consultation. You have until 24th December to take part. https://consultations.wearecamden.org/supporting-communities/torrington-place-tavistock-place-corridor-proposed/consultation/intro/
The Public Inquiry brought in to sort of the (frankly) mess created over the consultation and implementation of the cycle track resulted in the Inspector recommending that the motor traffic lane be reversed from its current eastbound direction westbound. It's worth taking a pause from the moment to remind ourselves of what went into the Inquiry - four weeks of evidence, testimony, examination - nobody has suggested the Inspector did a shoddy or incomplete job. It is very clear. His recommendation is that the direction of the traffic flow should be WESTBOUND. Simple and should be non-controversial. But no... It raise a bit of a hue and cry. And so we have Camden scuffling yet another 'Camden Consultation'.
This is not a consultation about the current cycle tracks. Both cycle tracks will remain and there will continue to be just one lane of traffic. It's about whether the traffic flow should be Westbound towards the west end and Tottenham Court Road, or eastbound towards, well, Regent Square and Judd Street. Yet, Judd Street will be permanently closed to through traffic in January 2019. Yet another important factor is that Gower Street and Tottenham Court Road are going to be made two-way as part of Camden's much heralded West End Project.
It would make sense (wouldn't it?) for Tavistock Place to connect with the West End. Or would it be better that Tavistock Place was the escape route from the West End for traffic wanting to avoid the already congested Bloomsbury Way and Theobalds Road, or Euston Road heading into Kings Cross Road.
You have until 24th December to let Camden have your opinion. As we always say, please take part now. because if you do nothing you have no reason to complain in the future something's done that you don't like. Remember, it's our Camden. Councillors consult with us to create policies that they then instruct the officers to carry out. Tell them what you want.