The Camden cabinet met to make decisions on what next for the Tavistock Place cycle track.  For all sorts of reasons it's going to a public enquiry - in part because of a procedural error by Camden, and in part because (HV guesses) it remains a hot contentious subject.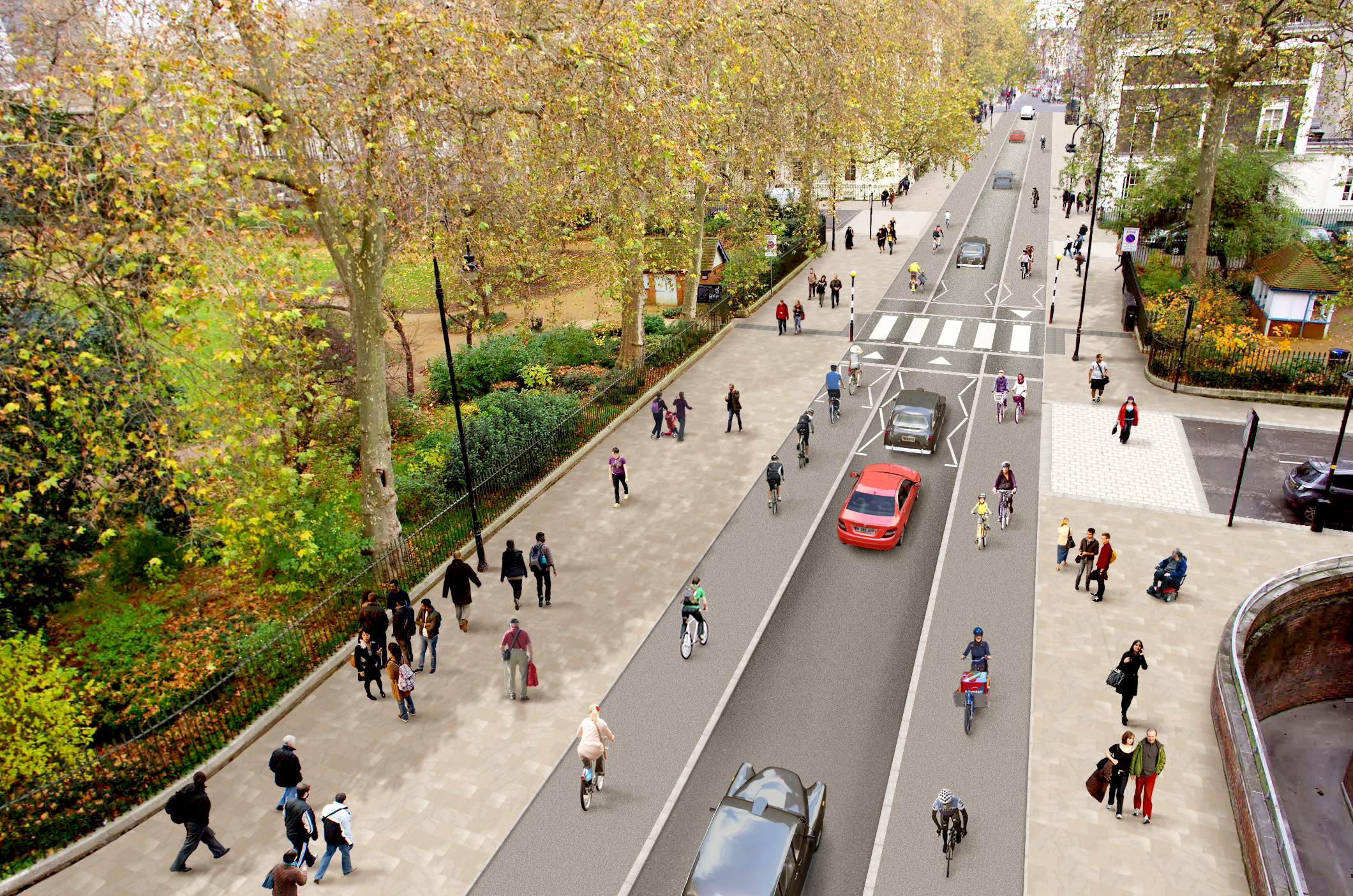 You can watch the webcast of the meeting here:  http://camden.public-i.tv/core/portal/webcast_interactive/272182

Deputations about the cycle track are first in item 5.  And the full discussion is item 9. Just click the menu number to jump to the correct section.

It's generally agreed that less motor traffic makes for better air quality and significant improvements for pedestrians and cyclists. That's right, of course. Who wouldn't want better, less polluted air quality and quieter roads? Camden's air monitoring noted a reduction in pollution on and adjacent to the cycle track. But of course it does! Fewer motors obviously equals less pollution caused by motor traffic.
An excellent question asked by Cllr Apak was about the impact of displaced traffic, possible worsening of air quality caused by the displaced traffic, and any mitigation. You can see the question and the officer's answer from 00.49.22 on the webcast.  HV's view of the officer's answer is that it was evasive, rambling and imprecise. In summary: we don't fully know and we need to consider it carefully.  Really? After all this time, is that the best answer? Surely it's simple: less traffic in one area results in more traffic in another.  Better air quality in one area results in worse air quality in the other. Do a bit of car counting. Look for where the traffic has gone to and you'll find the answer.



The meeting was told that the air quality on Euston Road is very bad.  There is more traffic so of course it's bad. It's not a Camden controlled road, it's the responsibility of Transport for London - phew, a body swerve and a choking cough and wheeze on that one! HV isn't an expert, but it does seem very obvious that more traffic equals more pollution.  What we strongly object to is there being no mention and no consideration of the displaced traffic on Guilford Street, Judd Street, Southampton Row, Theobalds Road, and the north end of Gray's Inn Road as it approaches Kings Cross. Is it possible that these roads are not considered because they are not adjacent or local enough to the Tavistock Place, or perhaps it's to suit the 'in favour' statistics? The displacement impact is real enough.



Questions remain over the journey delays caused by the road being made one way for motorised traffic. There's discussion over who is delayed and the consequences of that. The elderly and disabled, ambulances are inconvenienced. However, the officer's summary is that because those users are a lower percentage of all users, the delay isn't that bad really. HV interpreted this as, there are fewer of you, so tough! Mention was conveniently made that assessments indicate many motor users across London who pass through Camden could use alternative means of transport. 'Get your motors off our Camden roads, buddy!' doesn't seem to be a viable solution to us.

What HV hopes for is proper consideration of not only the impact the cycle track has on adjacent streets but also on ALL streets, no matter where they are. Yes, Tavistock place is quieter, yes the air is much less pollution, but WHERE did all that traffic go?  London Cycling Campaign says, "traffic evaporation" has occured..."  HV disagrees. It didn't just disappear. We want Camden to go and find it, show us their workings out and then mitigate the impact on all streets - not just those conveniently close to Tavistock Place.

Anyway, the whole thing has been deferred to a Public Enquiry. More later…