Camden is consulting on measures to improve conditions for people cycling and walking along Gray's Inn Road, and to provide wider road safety and public realm benefits.
What's all this about? It's tied up in awkward language with a littering of 'positive' words such as 'improvements', 'safer', 'minimise impact'... yeah, yeah, speak plainly.
It's a segregated cycle lane on both sides of Grays Inn Road from Harrison Street all the way down to Argos at Chancery Lane.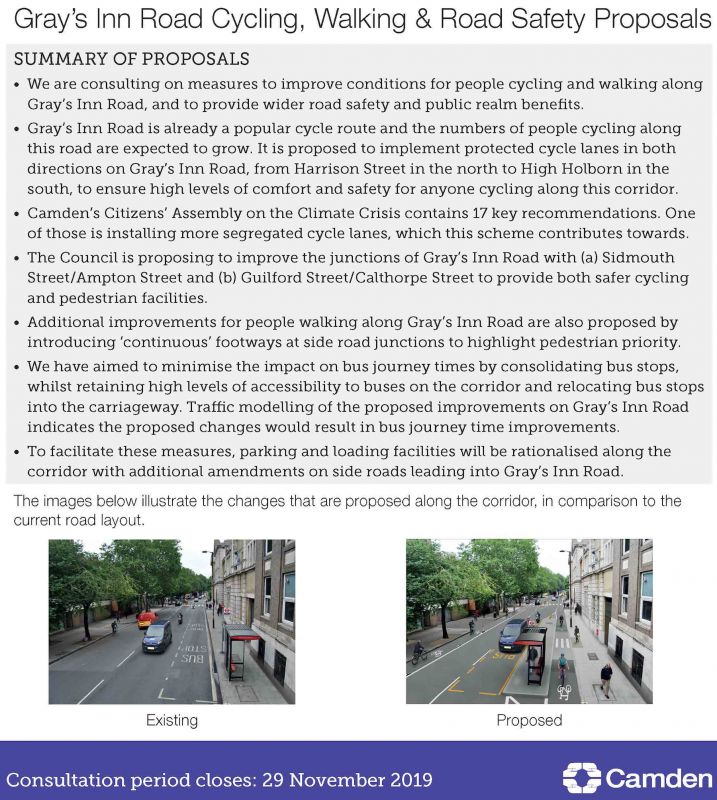 In Camden's language: Gray's Inn Road is already a popular cycle route and the numbers of people cycling along this road are expected to grow. It is proposed to implement protected cycle lanes in both directions on Gray's Inn Road, from Harrison Street in the north to High Holborn in the south, to ensure high levels of comfort and safety for anyone cycling along this corridor.
You really should take a look. Camden are 'consulting' - yep a 'Camden Consultation'. Have a look at the removal of bus stops - the one outside Co-op is going, the one outside The Blue Lion is being move south to opposite ITN., and the one near to Pret is being removed. A less cynical person may observe that by removing bus stops the bus timetable can be maintained with slower traffic.
Have a look at the way the bus stops have been relocated onto islands between the cycle racetrack (sorry, I mean cycle lane) and the road.
The Council will be pleased to hear your views on the proposals we are consulting upon as well as any alternative suggestions or objections you may have to any aspect of the scheme.
HV very much doubts anything you've got to say will change their plans. Makes you wonder they they bother - the illusion of residents having a say.
The consultation is open now and ends on 29th November.
The public documents and plans are available on Camden's website here as is the Consultation Questionnaire.