Sunday, 6 January 2019 - Sunday, 2 June 2019
6.30pm, with some free pre-recitals at 5.30pm
The Spring 2019 season of Sunday Concerts will offer a huge variety of chamber music from Baroque to the present day, played by some of the finest musicians from the UK and abroad.
Click here to download a PDF of the new season brochure.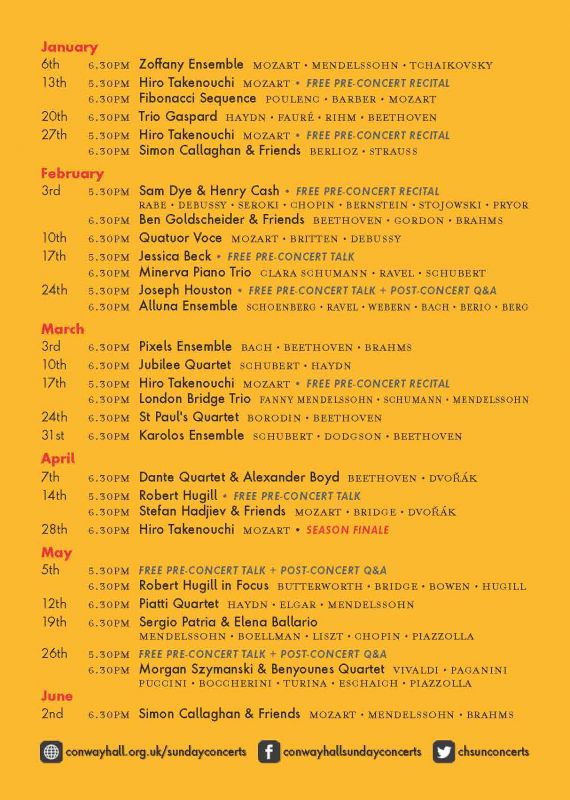 There will be new opportunities to get closer to the musicians, with pre-concert events introducing the evening's programme, along with post- concert informal question and answer sessions with some of the performers. One of the long-standing pre-concert speakers, composer and musicologist Robert Hugill, will curate a concert in May, setting his own music in context with other composers who influenced his work.
Pre-concert events this season also include the continuation of Hiro Takenouchi's Mozart series, which culminates in a full recital finale in May. Those of you who attended the first three of his wonderful concerts in 2018 will certainly not want to miss the final events, completing his cycle of Mozart piano sonatas. Jessica Beck, who recently completed her research into the Conway Hall archive, will also give a pre-concert talk, presenting some of her work.
Conway Hall are particularly pleased at the variety of instrumentations and repertoire on the programme this season. Alongside some wonderful string quartet and piano trio works, we will hear wind, vocal and guitar music, a highlight of which will surely be a rare London performance by leading Mexican guitarist Morgan Szymanski, in collaboration with the Benyounes Quartet.
In February the Alluna Ensemble will bring together the voice, strings, wind and piano in a specially-constructed programme centred around Arnold Schoenberg's melodrama, Pierrot Lunaire. A special opportunity to hear this masterpiece interspersed with related works from Bach to Berio.
Tickets: £12 • £10 advance
FREE for under-26s (courtesy of the Cavatina Chamber Music Trust)
For more information, full programme and booking details click here