Friday, 16 November 2018 - Friday, 22 March 2019
Game Over is your brand new monthly retro console games night at Holborn Library.
The event will focus on games of all kind, specifically retro console games like Sega Master System, Sega Mega Drive, Super Nintendo, Nintendo Wii, Artari and Nintendo 64.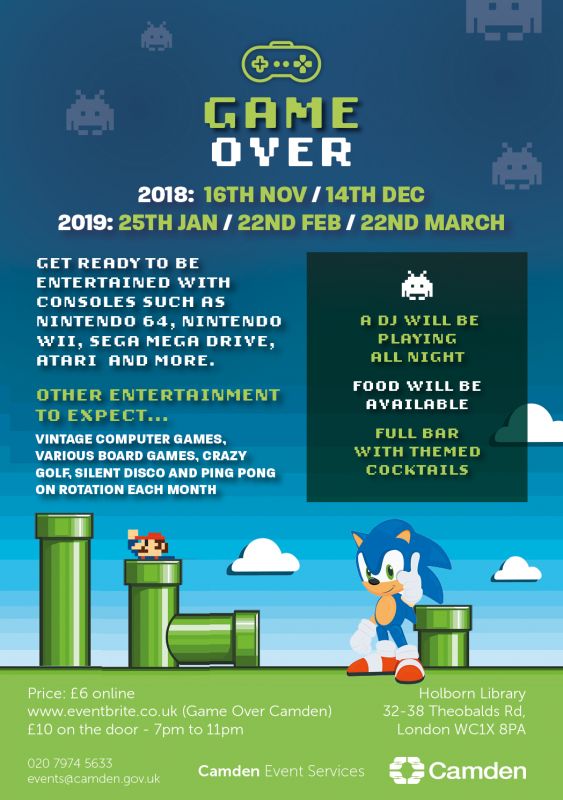 Entertainment
Games available to play will be Mario Kart, Mario Party, Sonic, Donkey Kong, Street Fighter, Mortal Kombat, Snowboard Kids, Tony Hawk Skateboarding… stay plugged in for more additions.
With over 20 retro board games to choose from plus over 10 computers set-up with original games from the 80's and 90's, all the games will be played on large screens and projectors.
Each month on rotation, try out indoor crazy golf, karaoke, darts, arcade games, ping-pong, silent disco and other games to keep you entertained.
Bar and food
If you're not into the games come for the bar and DJ!
This month's themed cocktails are:
• Robotnik's Secret Formula
• Donkey Kong's JJ (Jungle Juice)
The DJs will be playing tracks from the 90s, 00s, plus genres such as vapewave, indie, chillwave and upbeat vibes.
Food will also be available, more details to come.
Not a gamer?
This will be a relaxed gaming event; if you don't know how to play, there will be staff to help. We are celebrating the old games in a big way.

Why not bring a group after work, it is a perfect time to prove to your work mates you're better than them at pushing buttons!!!
Time/Dates:
7-11pm
16 Nov, 14 Dec, 25 Jan, 22 Feb and 22 March
Tickets:
Adults and 14-y/o or over with an adult.
£6 in advance click here
or £10 on the door
Holborn Library, 32-38 Theobalds Road WC1X 8PA