Thursday, 13 June 2019 - Saturday, 15 June 2019
Fri 2pm – 8pm, Sat 11am – 6pm, Sun, 12pm – 5pm
Cockpit Arts is open for a midsummer celebration; visit for a glimpse behind the studio doors and a chance to buy direct from London's best independent makers, alongside demonstrations, workshops and a secret postcard sale.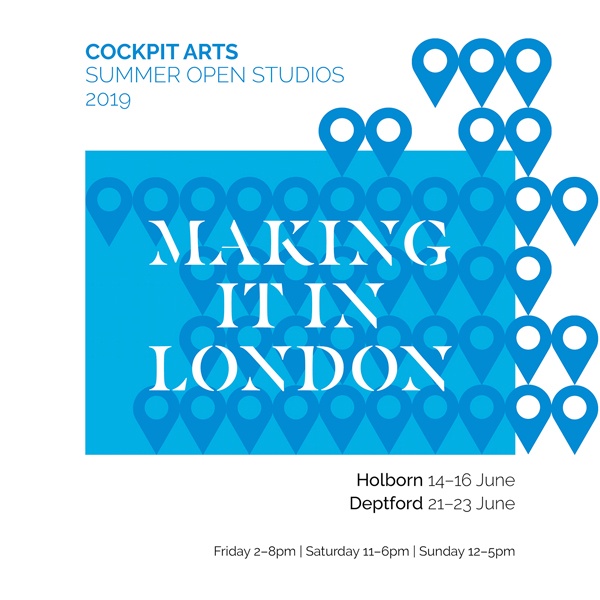 Meet over 140 different craftspeople during the two weekend openings at Cockpit Arts' studios; located in Holborn, at the heart of Bloomsbury
Open Studios is the only time Cockpit Arts is open to the public, making this an exclusive opportunity to see inside the buildings as well as meet and buy direct from some of the best makers in London - emerging and established.
Throughout the weekend there will be demonstrations, talks and taster workshops. See www.cockpitarts.com for details.
FREE ENTRY Donations Welcome
Demonstrations and Activities

Pre-booked Workshops
Please book ahead for these mini-taster sessions, all pre-booked workshops are £17.50 and prices include all materials.
Fri: 6.30 – 7pm, Sat & Sun: 2 – 2.30pm, 4 – 4.30pm
Up-cycling workshop with Carréducker
Join shoemakers Carréducker for an adventure in up-cycling – help them to transform a box of leather off-cuts into a personalised, leather bracelet or cuff.
Free to attend but limited spaces per timeslot, book your place
Fri: 7 – 8pm, Sun: 1 – 2pm
Designing with colour with Ian Scott Kettle
A unique opportunity to gain an insight into the process of colour storyboarding for fashion and textiles.
Book your place
Sat & Sun: 12.30 – 1.30pm
Mindful Stitch Embroidery with Ekta Kaul
Slow down, learn to embroider and improve wellbeing through the calming movement of needle and thread.
Book your place
Cockpit Arts is London's leading studios for contemporary craft. An award-winning social enterprise, Cockpit is home to 150 businesses based at its Holborn and Deptford sites. Cockpit offer dedicated studio space and expert business support to enable talented makers to start and grow successful practices. Since opening in 1986, Cockpit has supported thousands of makers, from fine jewellers to glass artists, ceramicists to contemporary weavers, to achieve national and international success.